Sitting on the courtside, the legendary Ma Lin shook his head in disbelief.
In the middle, the reigning world champion duo of Chen Meng and Wang Yidi gasped in surprise seeing the backhand return of Ayhika Mukherjee, who, in part, engineered India's biggest triumph of the Asian Games thus far.
Foxed by the anti-spin rubber that Ayhika uses on the backhand, the Chinese pair wore a rattled look, managing only five points in each of the first two games of the women's doubles semifinals, which assured India a historic table tennis medal in these Games in Hangzhou on Saturday.
Ma Lin, the head coach of the Chinese team, expected much better out of his wards.
But the Kolkata-based combination of Ayhika and Suthirtha Mukherjee had a simple plan in place: slow down the game with the former's backhand so that the latter can unleash a booming forehand on the following return with her short pimpled rubber.
It was their only option as they didn't stand a chance against the Chinese any other way. And it all came together for the Indians.
Meng and Yidi, ranked two and four respectively in the singles, seemed to have got a slight understanding of their opponents' rubbers in the third game but that was not enough to prevent one of the greatest upsets of the Asian Games.
The Dr Neubauer Gorilla anti-spin rubber that Ayhika uses doesn't do magic on its own. One must have an overall game including backhand blocks and offensive forehand to get the best out of it.
"If your opponent hits a top spin then anti-spin rubber creates a reverse effect, which effectively means that the ball comes back to you with a heavy cut.
"That is what the Chinese could not figure out. However it was not all rubber, both Ayhika and Suthirtha complemented each other really well," Sandeep Gupta, the childhood coach of Olympian Neha Agarwal and current star Manika Batra, told PTI.
While Ayhika has anti-spin on the back hand and short-pimple on the forehand, Suthirtha plays with short pimple combination on forehand and plain rubber on the backhand.
"With Ayhika's anti spin return, Suthirtha's forehand follows and it is not easy to negotiate it as that too generates some amount of spin. It is a not plain ball," Gupta said.
Effectively what it means is that Ayhika sets up the point and Suthirtha has the task of finishing points at the earliest.
"With their style of play, there will never be long rallies and if there are, then the Indian pair will end up winning most of them, and it happened today," he added.
Not seeing it as redemption but biggest achievement of my life: Soumyadeep Roy
A medal assured at the Asian Games, where the sport's powerhouses like China, Japan and Korea compete, is not only the biggest achievement for Ayhika and Suthirtha, it also means the world to multiple-time CWG medallist and now their coach Soumyadeep Roy.
The 26-year-old Mukherjees train at the Dhanuka Dhunseri Soumydeep Poloumi Roy TT Academy in Kolkata. Roy, who was accused of match-fixing by Manika when he was the national coach couple of years ago, did not want to talk about the past.
Having been part of Ayhika and Suthirtha's journey over the past eight years, he could not be more proud.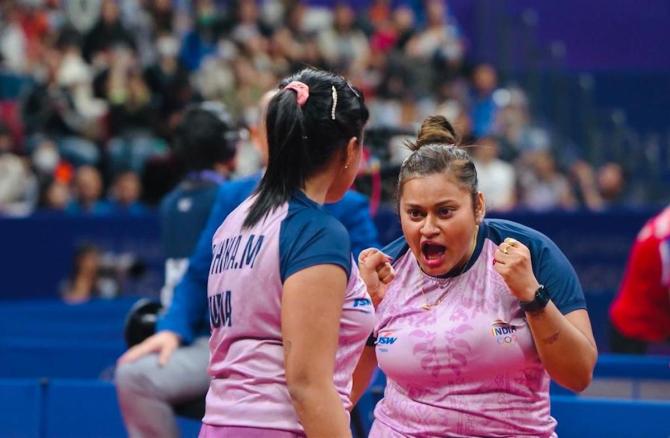 "An Asian Games is equal to winning in the Olympics as all the top countries are from Asia. Women's doubles is not in the Olympics but it is something we worked hard on for the last two years.
"Doubles is a very important aspect for medals at CWG and Asian Games and World Championships. The results have started to show now. It is not over yet. They have a chance to win gold," Roy said looking ahead at the semifinals.
Manika's allegations against Roy had led to the suspension of the Table Tennis Federation of India. His stint as the India coach ended abruptly but he has made peace with it.
"I don't want to talk about it. It is a different topic. The court has ended the matter. I didn't do anything wrong and I don't have hard feelings for anybody.
"It is my job to produce players like Ayhika and Suthirtha. I don't want to call it redemption. As a player I could not win a medal in four Asian Games. As a coach, two of my kids have done what I could not do.
"It is the biggest achievement of my life, not just in table tennis. I would like to cherish this and work even harder for the next generation," said Roy, failing to hide his emotions.
Roy recalled the times when both Ayhika and Sutirtha used to turn up at his academy at 6 am and train for 12 hours before heading back to their rented room.
The rubber doesn't win it for you
Players who use pimples at an early age are often told about the limitations of the rubber. However, Manika and now the Mukherjee duo have busted that myth.
"The rubber doesn't win it for you. You need to get the best out of rubbers like Manika and these girls have done. These girls have developed their overall game and fitness.
"They can only create an advantage by slowing down the ball, but you need to capitalize on that. You need to attack and finish the point and you need to have a game for that," added Roy who saw a special result coming after the pair won the WTT Contender in Tunis in June.
His prediction came true on Saturday as Ayhika and Suthirtha breached the Chinese wall.
Source: Rediff