After 6,000 miles of dirt, mud, and tarmac, we flew home well short of our main goal, Kazakhstan, but sometimes you have to fail to see what's truly important.
Just about every fantastical tale encourages you to dream big. Charlie wins the chocolate factory. Peter Pan saves Neverland. Frodo crosses Mordor and destroys the ring. But all of these best-selling fables forget to mention one important thing: What happens if you come up short and your big adventure doesn't have a storybook ending? There's the rub.
At some point or another, failure is as inevitable as death and taxes. For some (ahem, me) it's almost more common than not. I spend a lot of my time tracking down adventure stories and often come home with little to show for it. Altitude sickness in Peru, dodging avalanches in Norway, and futile chimpanzee chases in Uganda, just to name a few.
Repeated failure has taught me valuable lessons—especially my latest one, motorcycling the Silk Road, arguably the most epic of motorcycle trips.
What Is the Silk Road?
The Silk Road was an extensive network of trade routes connecting the East to the West, dating back to 2nd century BC. It was a major conduit for exchanging goods, art, technology, culture, and religion among China, India, Persia, Rome, and the rest of Europe. The name originated from the lucrative silk trade, one of the most prominent commodities at the time, but a wide array of spices, metals, textiles, and animals also passed along these routes.
The Silk Road spanned thousands of miles and was used for over a millennium. It had a profound impact on the development of the civilizations it connected, sharing knowledge and enriching societies along its length. Due to geopolitical shifts, isolationist tendencies, and epidemics, the Silk Road eventually declined. However, its legacy endures as a symbol of interconnectedness around the world.
Creating a Modern Moto Route
Drawn to the idea of connecting cultures and exploring rarely visited places, we spent the better part of a year piecing together an 8,000-mile off-road moto route from Amsterdam to Almaty, Kazakhstan. Starting in the Netherlands, we planned to cross Germany on the Autobahn, take backgrounds through the Dolomites and Julian Alps, and wind through rural parts of the Balkans to Istanbul. There we would swap tires and resupply food and gear, before continuing eastward into the Muslim world.
We planned to ride the crest of the Pontic Mountains across Turkey, cross the Caucasus Mountains in Georgia, take a ferry across the Caspian Sea, then red line the flat half of Central Asia: Ustyurt Plateau, Turan Lowlands, and Kyzylkum Desert. This would save time for us to explore the Pamir Mountains in Tajikistan and the Tian Shan of Kyrgyzstan, before finishing in Kazakhstan, shipping the bikes back, and flying home. But a lot had to go right for us to get there.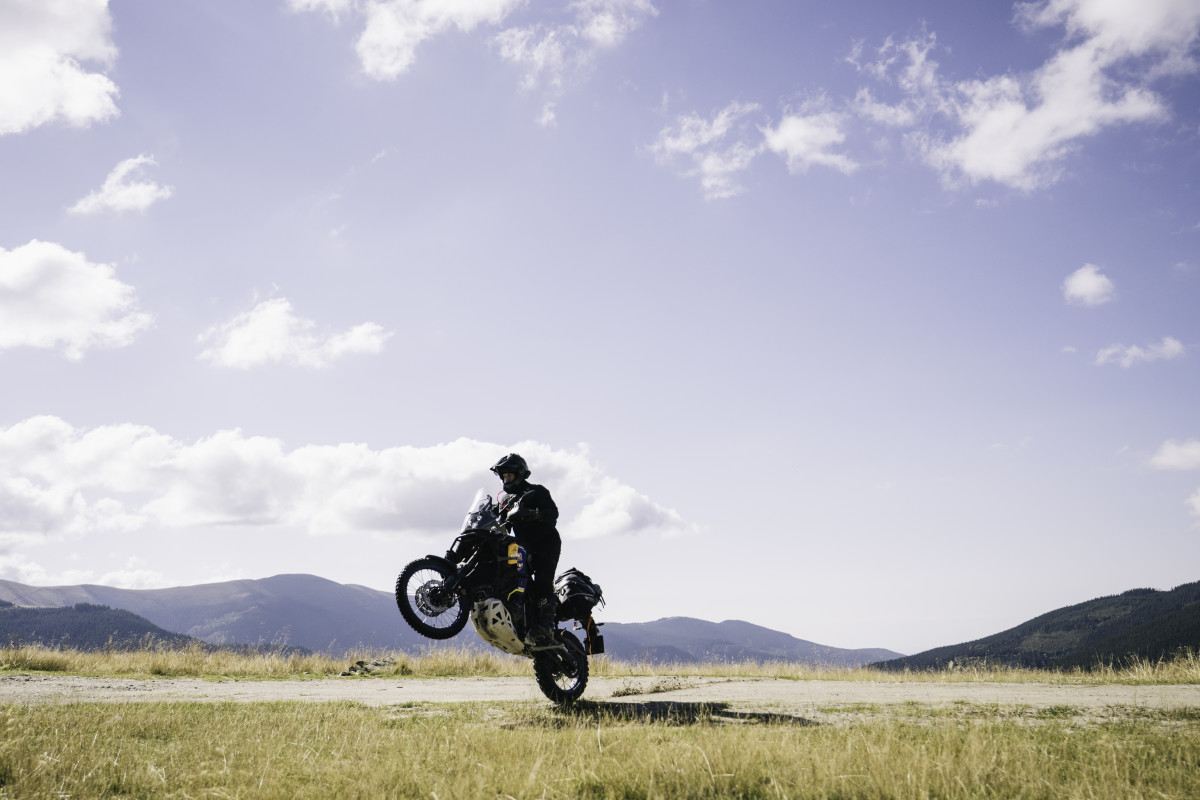 Building the route took months of research, maps, calls, dead ends, and tough decisions. It started with a totally blank slate; we didn't have a template to work off or an itinerary to copy. We connected places we wanted to visit, epic roads we wanted to ride, and borders that were easy to cross.
This meant a lot of screen time figuring out visas, carnets, campsites, gas stations, and border conflicts. Originally we hoped to finish in Mongolia, but that meant either crossing Russia (a non-starter) or China, which requires a special permit, a Chinese number plate, and a Chinese license that's very expensive.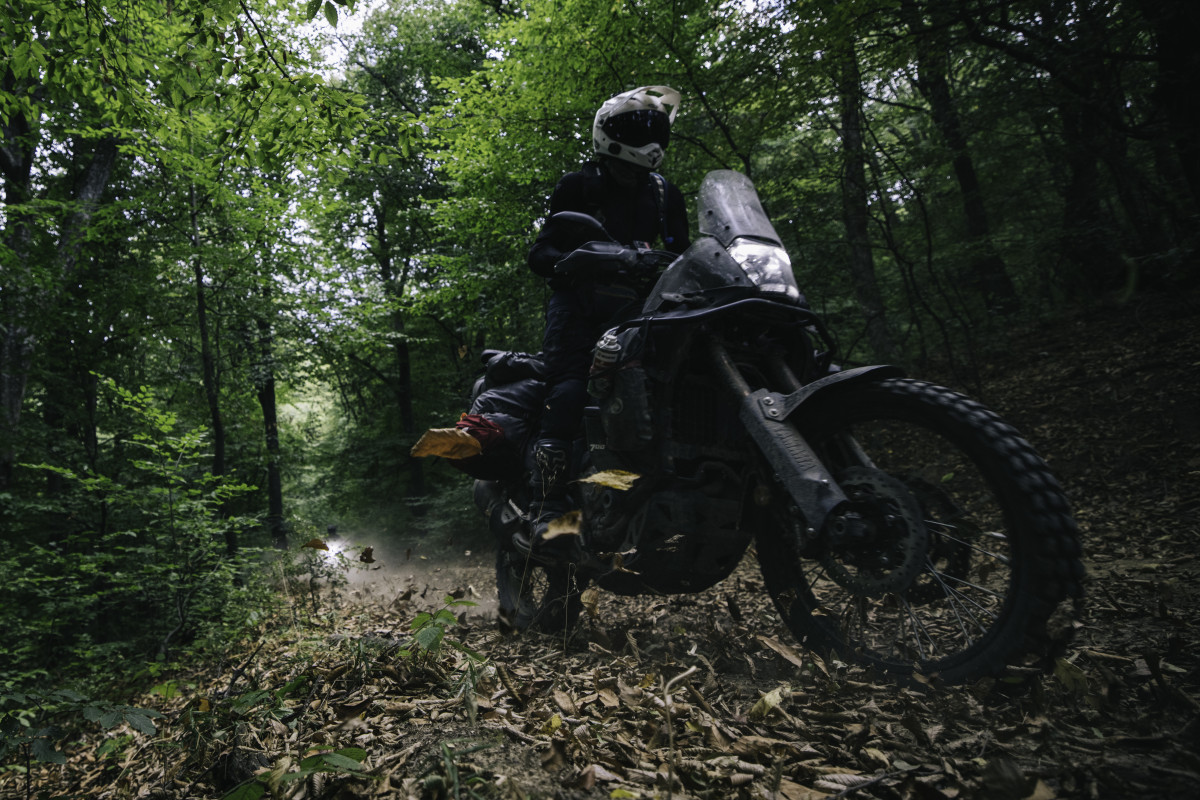 What We Learned on the Silk Road
It's difficult to sum up a month of riding in a thousand words, but I'll do my best. All told, we rode across 14 countries, spent over 250 hours in the saddle, dealt with a brutal heat wave, big storms, dead ends, hard falls, a broken clutch, and plenty of close calls in between.
Some days we slowly picked through technical terrain with heavy bikes loaded with gear, some days we drove across vast, empty spaces. Most often we finished a little before dark, ate dinner, and crashed. It became a test of endurance in more ways than one.
From the moment we picked up the bikes in Amsterdam, making it to Almaty was far from a sure thing. We had planned for months, collecting all the right paperwork, top-tier gear, reliable bikes, and local beta, but there's a lot you don't control on a trip this big. There's a lot you can't even predict, too. We gave ourselves the best chance and it still wasn't enough. Here's what we learned in the process.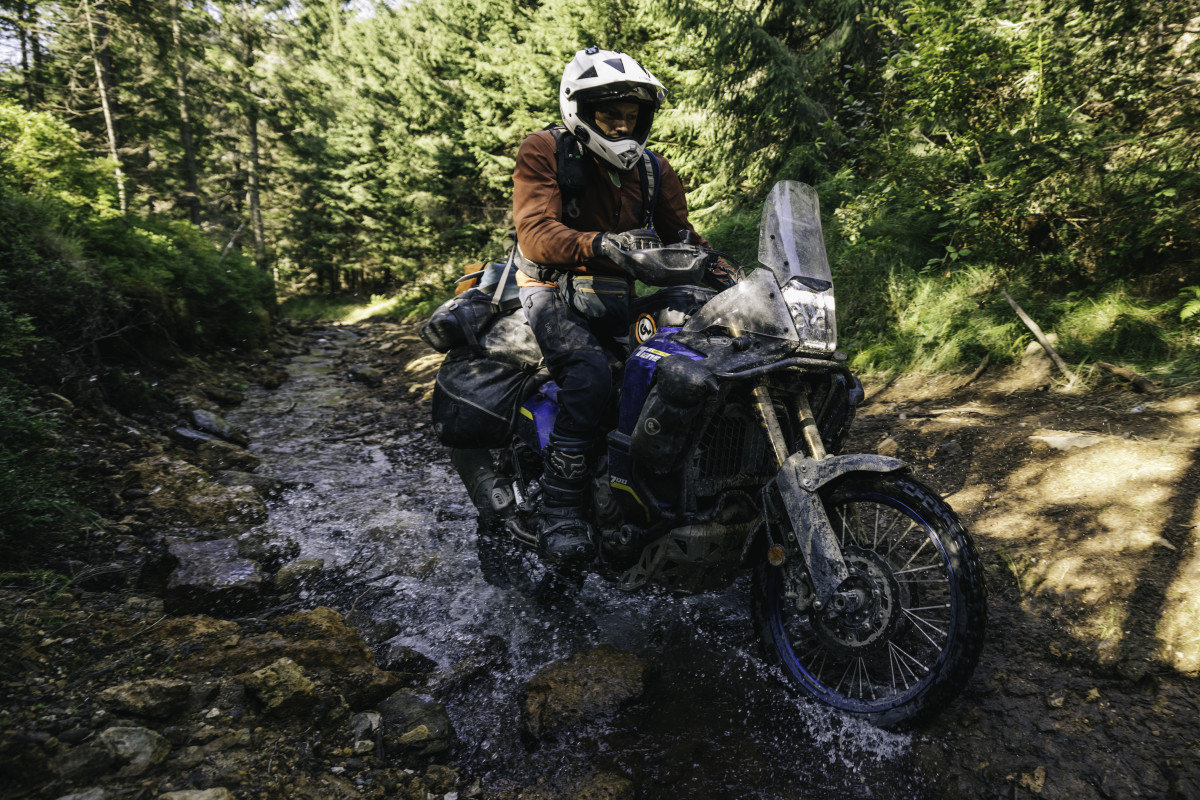 1. You Play the Hand You're Dealt
We made quick time through Western Europe, building confidence that things would break in our favor. With a mix of highway and dirt riding, we found ourselves in Istanbul a day ahead of schedule. Despite an unforgiving heatwave and daytime temps in the triple digits, morale stayed high. The riding in Slovenia and Serbia was especially fun, with windy roads and small towns that felt like relics from another era.
As we continued into the Middle East, our luck ran out. Halfway across Turkey a bus swerved into our lane, crashing into my bike. Fortunately I came out unscathed. Unrelated, but at the same time, I had a local infection grow rapidly, which required emergency surgery.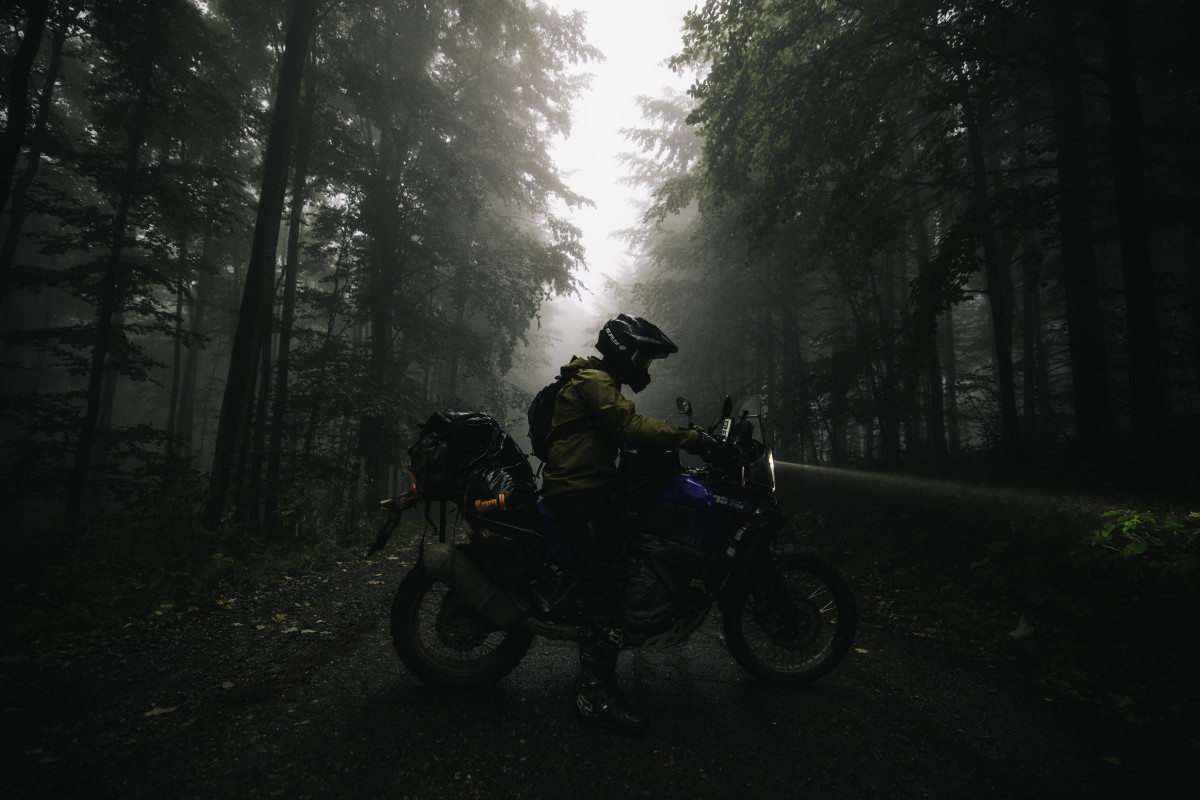 A day later we got an email from the Azerbaijan consulate renouncing their word and revoking our special access permit. This was critical to sneak past Iran, Iraq, and Afghanistan, throwing our original plan out the window.
After booking a hotel with WiFi and drinking a couple bottles of wine, we began to ideate on what to do next. This wasn't the pinnacle moment any of us dreamed of, but you have to roll with the punches.
After a day of research and a long debate among us, we decided to flip around and loop back to Amsterdam, riding a new route through the Carpathian Mountains in Romania, Slovakia, and Czechia. This section turned out to be the highlight of the trip and wasn't even on our radar at the start.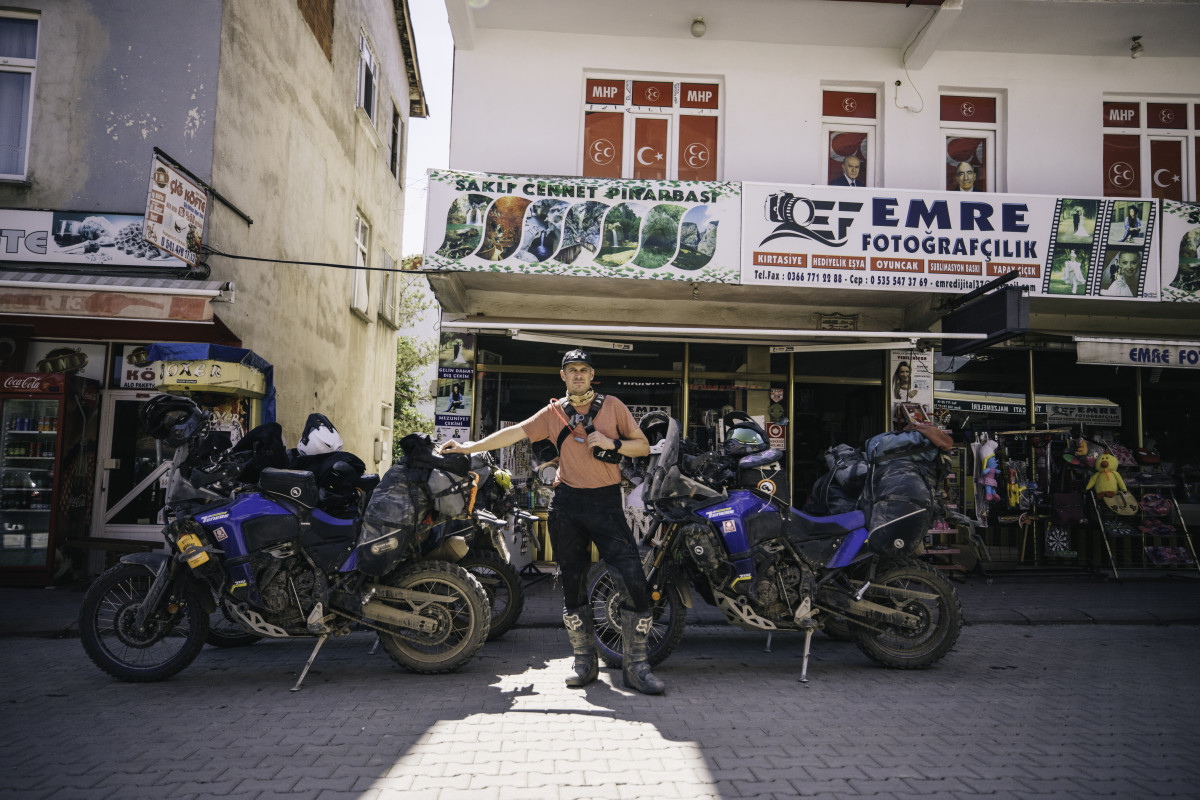 2. The Right Gear Is Everything
The biggest decision we made before the trip was about the bikes. They had to be capable off-road, fast on highways and, most importantly, super durable. We knew the riding was technical and mistakes would happen, therefore we prioritized reliability. After testing options, we opted for Yamaha Tenere 700 World Raid and they exceeded expectations. The T7 has a simple design, burly engineering, and is surprisingly nimble for its size. The only downside is that it isn't available in the U.S. (not yet at least).
We slapped Michelin Anakee Wilds on the T7s, which is an aggressive 50/50 tire that I've trusted for years. They run smooth on highways and have impressive traction on loose sand, dirt, and mud, which was ideal for the variety of riding on our route. We ended up swapping out a new pair halfway through the trip before running them completely bald.
We carried our gear in Giant Loop Great Basin saddlebags , which can handle rain, mud, and falls. They work as great airplane checked luggage, too.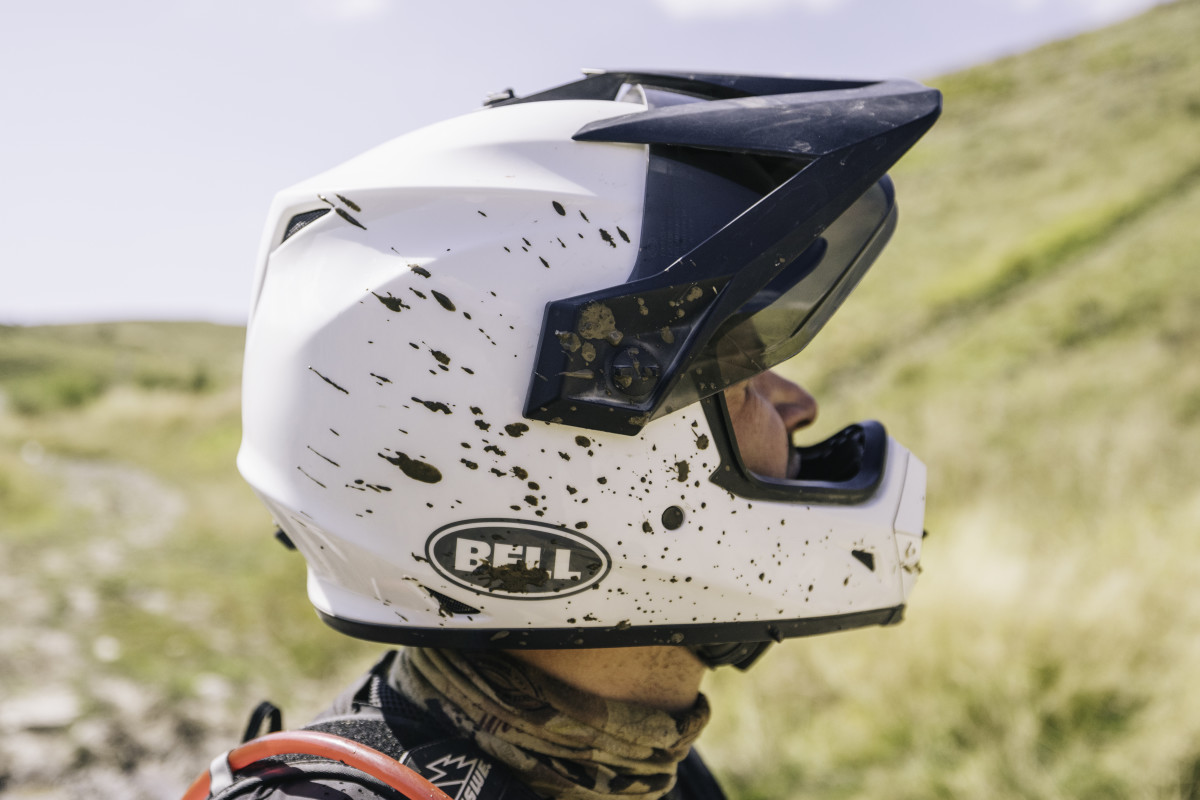 On long trips, the little details matter. Vents, pockets, and materials need to withstand the rigors of being abused to the ends of the earth. For armor, we relied on REV'IT!'s DIRT Series collection to stay comfortable on long days; the gear is weatherproof and held up to all of our mischief.
The biggest upgrade I made to my kit was a pair of Fox Racing Motion X Boots , which are remarkably waterproof, while offering better range of motion than any other boot I've ridden in.
I stuck with my trusty Bell MX-9 Adventure Helmet and used Spy Foundation Goggles on humid, hot, or low-vis days. Last but not least, we all used Cardo PackTalk Edge comms, which can run all day, work in all conditions, and are clear even at speeds of 80 mph. They single-handedly change how groups ride together.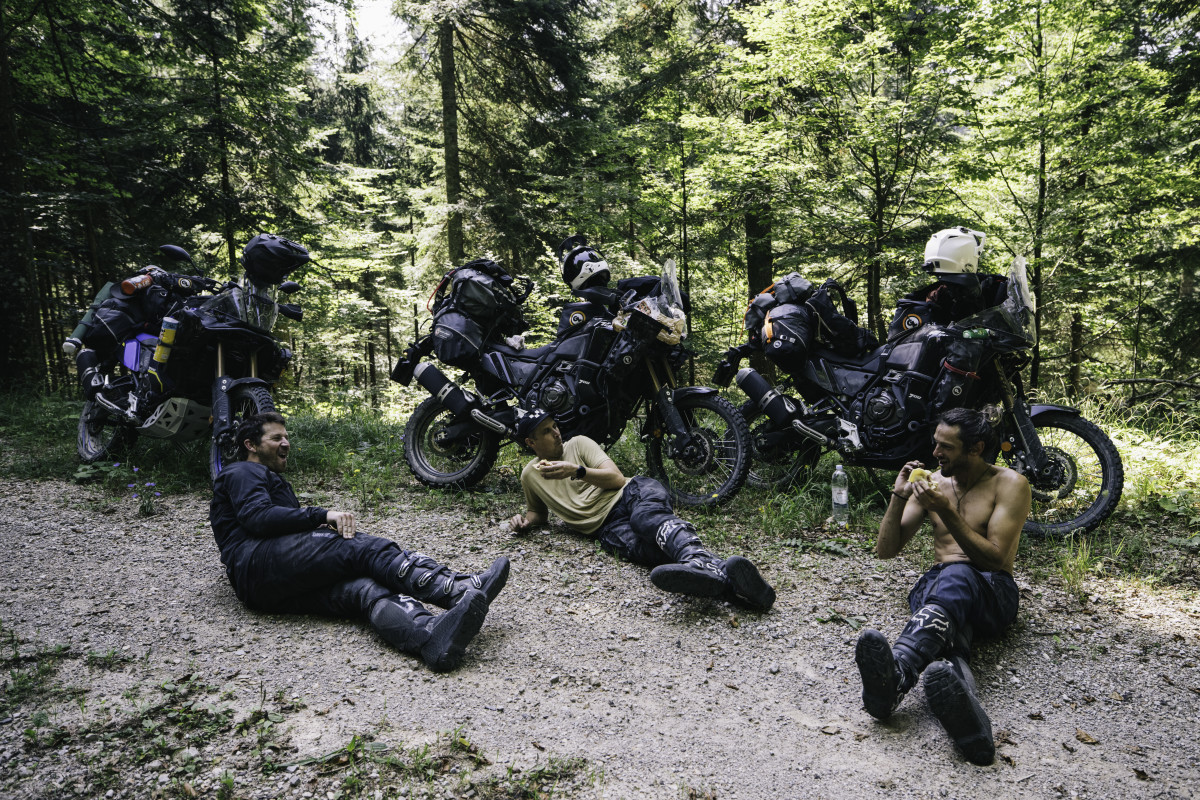 3. Do Hard Things With Easy People
There's a bit of poetic justice that our trip ended at the same spot the Ottoman empire shut down the Silk Road 500 years ago. I didn't realize this fact until afterwards, but it reminded me how fast geopolitical conflicts disrupt life. In the weeks since returning stateside, there's been wild elections in Slovakia, rising tensions between Serbia and Kosovo, bombings in Turkey, an Armenian mass exodus (not to mention the massive turmoil in Palestine and Israel). Perhaps we were lucky to make it as far as we did.
Long motorcycle trips have a way of creating clarity. Sitting on the bike day after day, living simply with just the gear in our bags, being present at every turn—you tend to let go of a lot, allowing space for the important things to rise to the top.
At the time, failing to make it to Kazakhstan hit hard. Looking back, that sentence is almost laughable. It turned out to be the trip of a lifetime, exploring countries I knew almost nothing about, meeting strangers and making stories that won't soon be forgotten. And, with any trip, the most important thing is the people you travel with.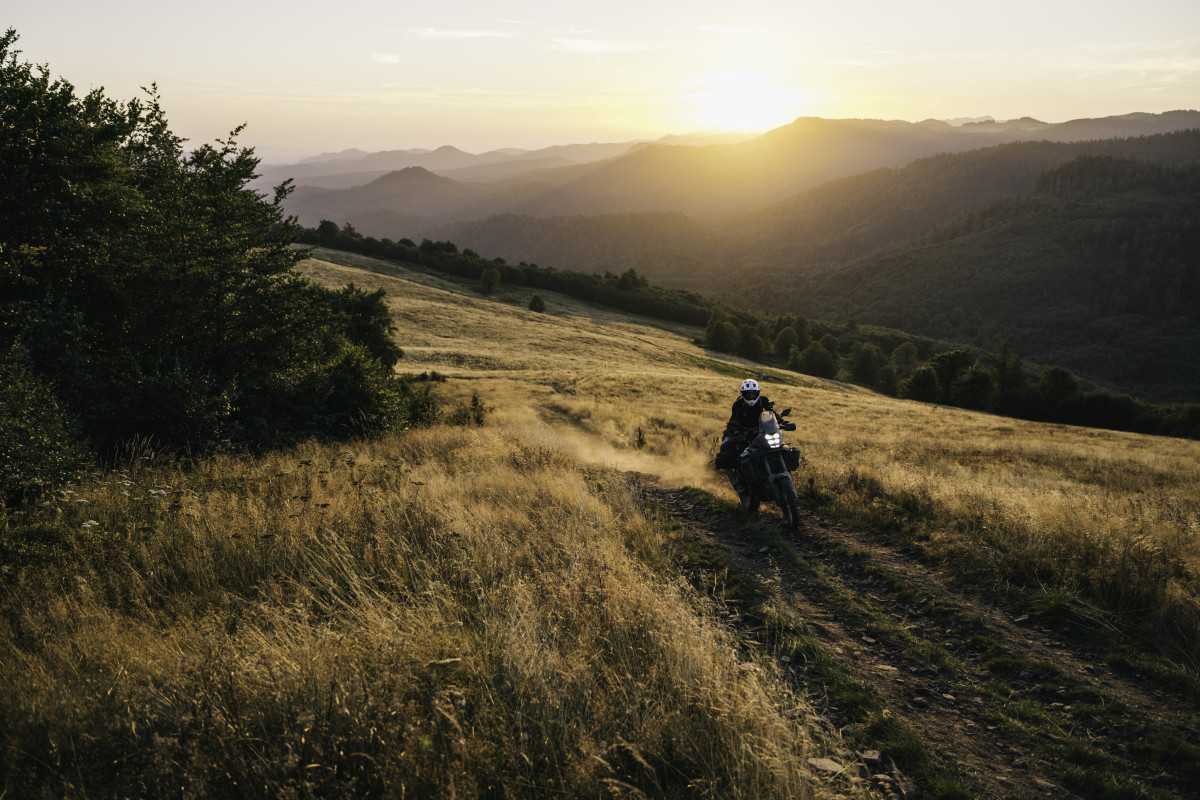 The four of us have done a lot together; we've watched each other grow up a lot, too. Ski touring, bikepacking, and sailing adventures, not to mention an electric motorcycle trip in the Sierra and a month-long moto trip across Africa.
We work well together because we communicate directly and value follow through. But on this trip, something else became clear. Even in the hardest moments—surgery, crashes, or getting lost—it felt easy. My biggest takeaway from the entire trip is that the best days in life are when you do hard things with easy people.
Source: Mens Journal